VR is not just about video games. Here are 10 uses for virtual reality goggles
Virtual reality and related technologies are associated mainly with video games. However, VR goggles can find many other, not just entertainment uses. We present 10 VR functionalities on the example of Oculus Quest 2 goggles from Facebook.
1. "Travel" without moving from your seat
Although VR will not provide the same experience as a real expedition into the unknown, it can give us a substitute for travel to hard-to-reach places in the world. This access is provided among others by films shot in 360 degrees, which can be found in YouTube VR application. Thanks to head-worn VR goggles we can literally look around such a movie as. driving a jeep on a virtual safari, or "fly" in a journey around mountain peaks.
There are plenty of nature videos (360) on YouTube that we can watch in VR
2. Play a virtual (but giving a real effort) sport
In VR goggles we can also do some heavy lifting. This is helped by various sports simulators or simple motion games such as Polish Super Hot or Czech Beat Saber. They require dodging and dynamic movement in the physical world (Oculus is also equipped with an application Move, (3) counting calories burned). The mentioned simulators, however, are m.in. boxing Creed Rise to Glory (less realistic) or Eleven Table Tennis VR, that puts on a ping pong simulation.
Although you have to accept some conventionality of the virtual movement of the pallet and the ball, the impression of the conducted skirmishes are amazing and close to realism. Especially since with fast internet, we can play them with other players, communicating with gestures or voice during breaks.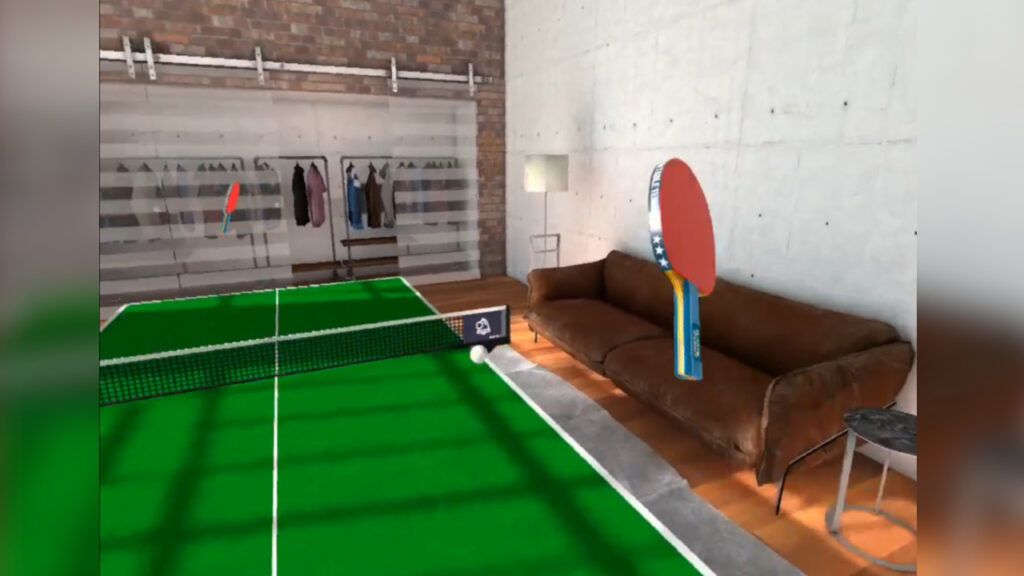 Just table tennis in VR and you no longer need a place at home for a ping pong table
3. Organize a movie theater, concert or match at home
There's nothing stopping you from simulating the situation of being present at a cinema hall, match or concert in VR goggles. Among the applications available for virtual reality you will find m.in. Netflix or Amazon Prime Video. A movie or a series can be displayed on a really big, virtual screen. We can also use the application that simulates the cinema hall environment. In a similar way, the goggles also give the opportunity to participate in the match or concert, from the perspective of the spectator in the stands (such functions offer e.g. application Oculus Venues, which is in the beta testing phase).
4. Connect with others
Despite appearances, VR doesn't just have to be for one-on-one entertainment. Not without reason, some VR goggles (eg. Oculus Quest 2) are equipped with a built-in microphone. In the system we can also find applications for text or voice communication, but also bringing "social media" to a new level. Such VR mediums are, for example Oculus Venues or VR Chat.
In these applications, we land as a virtual 3D avatar on a shared online square. It also features other users with whom we can talk or…beat a turtle or…watch a movie "in a cinema room". If the revolution of the early Internet was once an MMO game Second life, VR takes it to a whole new dimension. By the way, meetings and games in virtual reality can become an opportunity to train foreign languages.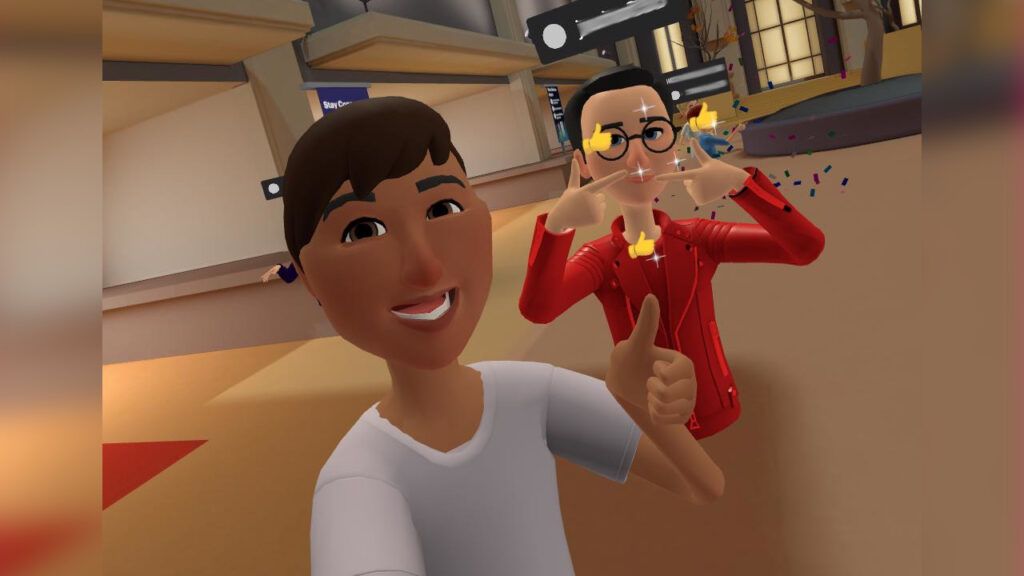 Oculus Venues app lets you take awkward selfies of yourself (and your friends)
5. Use your PC in virtual reality
In most cases, VR goggles work only when you connect them to a computer, from which the image and sound is transmitted. Goggles from the Oculus Quest series stand out in that they have their own components – they are fully autonomous. Like other goggles, however, we can connect them to the computer using a cable or wirelessly through the system option Air Link (alternatively – in the application Virtual Desktop). By connecting the goggles to the PC we can, for example, display the huge desktop of our computer in a virtual environment. We can also run games and programs installed on the computer for VR.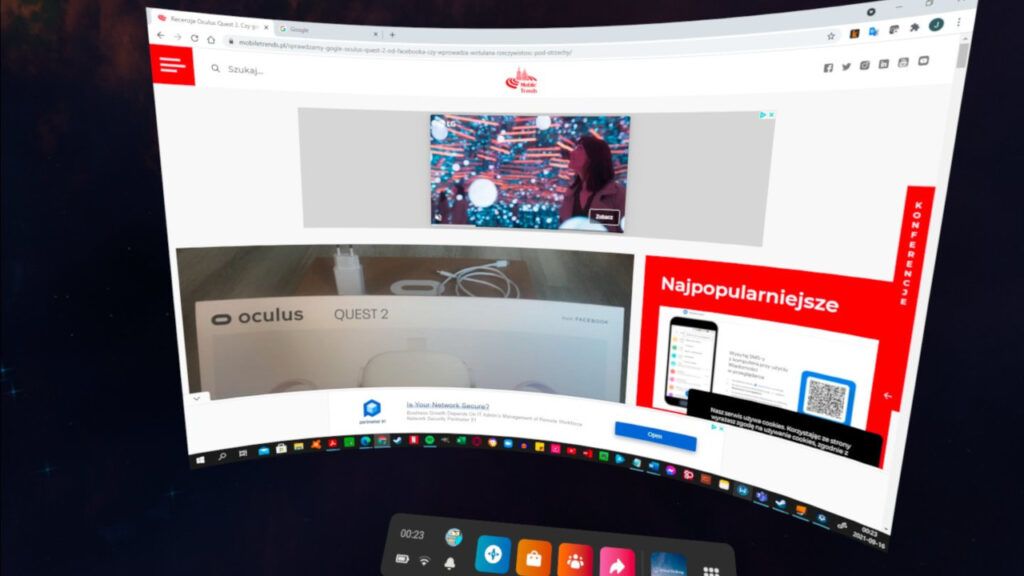 Thanks to the Virtual Desktop application we can run in VR the desktop of our own computer or a game in VR
6. Move your furniture (e.g. desktop) for VR
One of the interesting features of Oculus Quest 2 is to bring your physical desk to virtual reality, where it really is in the room. In a similar way we can indicate the location of the bed or sofa. Thus, while in the menu of VR goggles, we can find physical objects – sit by them physically or place controllers or goggles on them.
In my case this option came in handy during remote shopping for a new desk and choosing its appropriate dimensions (the desk can be "drawn" in VR). You can suspect how great VR solution will prove to be when furnishing or finishing the apartment (eg, in the case of a house or apartment). (thanks to apps like Ikea VR available on Steam).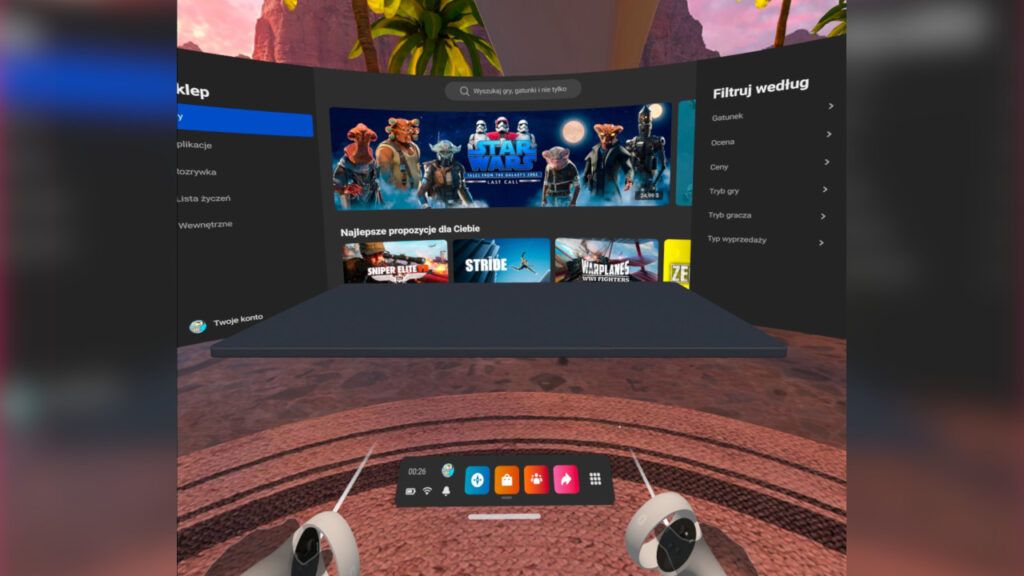 Adding your desk (or sofa) in VR is currently an experimental feature
7. Share the gameplay on your TV or Facebook
When we are accompanied by other people during the game in VR, it would be nice if they could also admire the virtual environment (instead of just a person with a helmet on his head). In the case of Oculus Quest 2, the only saving grace in such cases is the option to transmit the image and sound from the goggles via Wi-Fi to the screen of a TV set (smart TV) or e.g. a PC. Facebook wall. In this way, other people accompanying us can, for example. assist the person in the goggles in the game.
8. Show others virtual reality
VR goggles are also worth presenting to people not yet familiar with this technology. After finding the daredevil(s) who dare to wear a VR helmet on their head, we can conveniently view their actions on the screen of a smartphone. This is possible thanks to the Oculus mobile application (available on Android and iOS), which connects to the goggles via Bluetooth. The application also allows you to remotely turn on and off. Thus, the owner of the goggles can assist their novice users in navigating the system and game menus.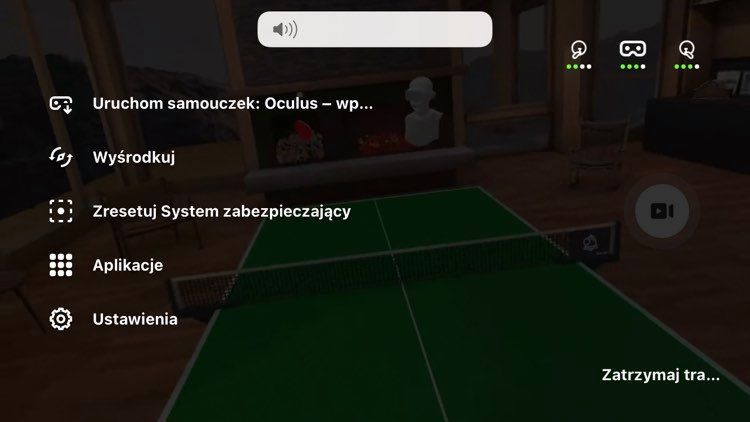 In the oculus mobile application we can preview the gameplay of the goggles on the screen of a smartphone
9. Move to virtual worlds in games
Virtual reality is also, and perhaps above all at the moment, video games. Admittedly, the number of significant and large titles is not very large (ok. 30). We can find them in the Oculus online store, but also, when connected to a computer, on the Steam platform, where games as revolutionary as. Half Life: Alyx.
What's more, after uploading the unofficial SideQuest software to the goggles, the user can use the additional application base. They are created by ordinary users, but also by talented programmers.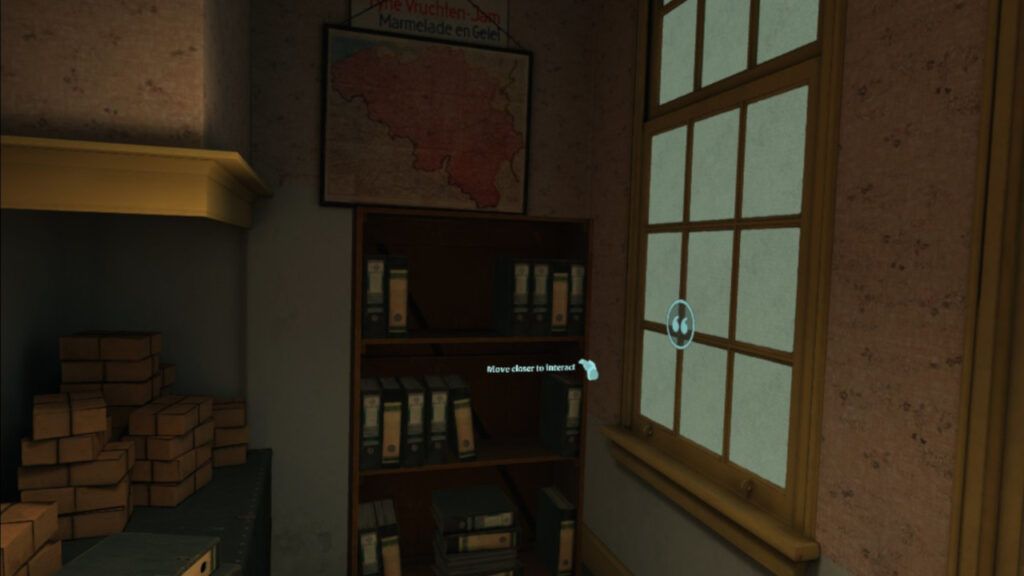 The Anna Frank House VR app is a game and historical experience in one.
10. Learn new things
Virtual reality is already being used for education. Simulations are used, among other things, for training in e.g. We can learn how to operate a crane, explore human anatomy models, or artistically model objects in VR.
An example of historical education is a free application Anna Frank House VR. In it, we visit the home of the title character, a teenage Jewish girl hiding in Amsterdam during World War II.
Some museums are also presenting their own collections in a similar way – in the form of apps or videos recorded with a 360-degree camera.
Summary
This way we reached the round ten of VR applications. Now and in the future, we will probably find even more of them. Those presented above, as I hope, show the potential hidden in this technology.
For those interested: Virtual reality can be tested in a very basic edition, buying cardboard goggles Cardboard (cost approx. PLN 30) to which a smartphone is put. It is on its screen that virtual reality is simulated. Another option is to rent equipment or go to a professional VR studio, which allows you to test various goggles and play with them for a few dozen minutes.
And if you decide to buy your own goggles, probably the most cost-effective option, in terms of value for money, remain mentioned in the text Oculus Quest 2. You can read their review here.