Social media in 2021 or about trends on the market!
The world is changing and so is the way we communicate. Some time ago marketers trusted the power of social media. This trust has proven to be very profound. Companies that skillfully use the so called. social media often have a reason to cry over their financial statements. These are not tears of bitterness, but tears of happiness!
Getting to the point, how important social networks have become can be proved by the earnings of the people who work on them. Median earnings of Social Media Managers, also known as Social Media Ninjas or SoMe Specialists according to Work.en is at the level of 7 200 PLN gross. We can juxtapose this amount with the middle value of earnings of e.g. an HR Specialist. SEO, which according to Pracuj.pl earning here PLN 6 700 gross, or Public Relations Specialist earning already PLN 6 300 gross. Slightly different data is provided by the portal Salaries.en, which conducted research on a sample of 252 SM managers. According to the researchers, the market median is less than 5 510 PLN gross, which is still a very good result, and yet there are still 25% of people earning more than 9 640 PLN gross!
Why social media are important in the strategy of running a company?
Hard data speaks for itself. Report from January this year. compiled by Hootsuite shows that mobile device users in Poland increased by 728 thousand. people, along with an increase in the number of Internet savvy people, as the number increased by as many as 1.3 million. The number of 2.5 million active social media users is most impressive. The report also shows that they are used by approx. 68% of the population of our country, which gives us a number of nearly 26 million Poles.
The latest social media trends
Following the report of the website Rysujefejsbuki.pl we have the opportunity to analyze what was happening on the given platforms and what functionalities proved to be effective for their performers, and what proved to be problematic. There is a lot of data, so we strongly encourage you to read on, and we will try to discuss the most interesting ones.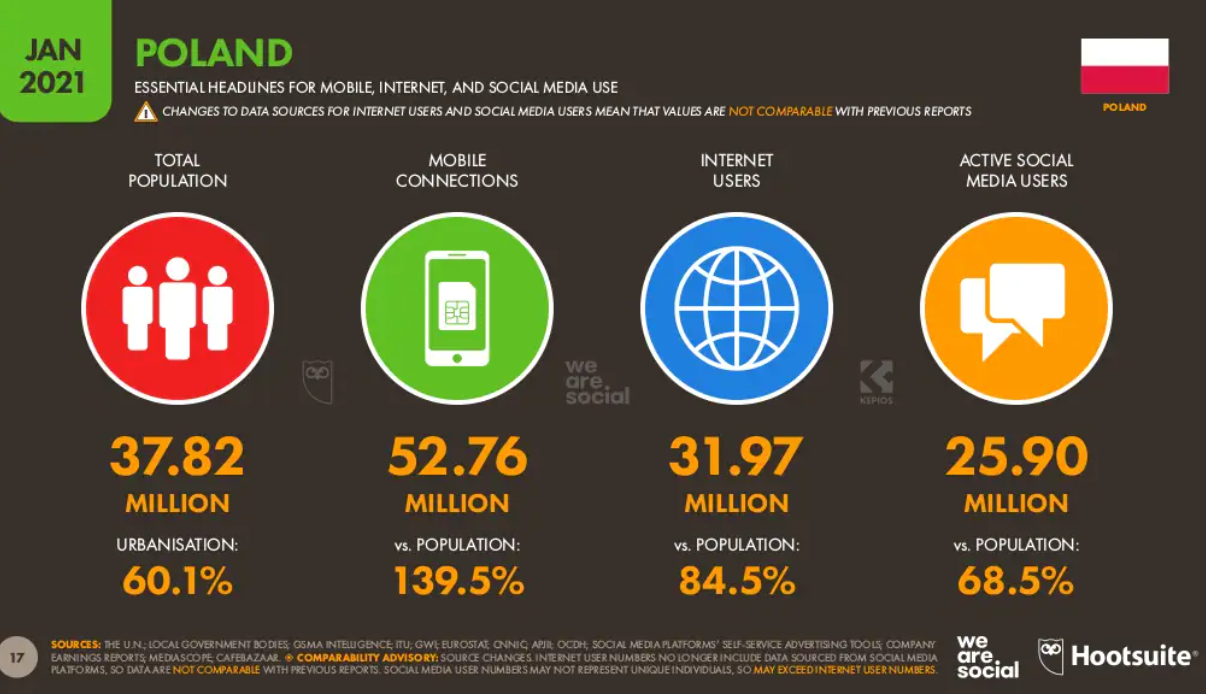 Facebook
Starting the discussion with fey, it is impossible not to mention Facebook Bulletin, which is a new platform for newsletters and podcasts. It allows you to create subscription lists and earning opportunities. Also new is the introduction of Facebook Pay for online payments. Facebook has also introduced live shopping, a new way of presenting products and a test version of the new interface. Facebook Analytics and Facebook Insights Audience have been discontinued as a result of stricter privacy regulations, which unfortunately may negatively influence the effectiveness of advertising campaigns in this ecosystem. As a compensation, we will probably get the opportunity to determine on our own how much we want to spend on particular campaigns on Feysa, Instagram, Messenger or Audience Network.
For the administrators themselves, Facebook has made quite a few improvements, such as the ability to send interested people automatic invitations to groups, and there's a scheduling option in the Business Suite that lets you plan relationships far ahead. Additional options also include: testing comments in accounts, but visible to every user viewing them; overlaying animated reactions on shared posts, or the ability to choose a template to display uploaded photos.
The most interesting in my opinion is the latest feature of exporting posts and notes from Fb to Google Docs, Blogger and WordPress, as well as the ability to monetize videos that last min. 1 minute rather than 3 minutes as previously. In addition to what we would have once thought an exotic, today an inspiring app for ex-convicts, video speed dating, Spotify on Facebook, work on augmented reality and the development of the Workplace platform. Really a lot of this!
Instagram
On Instagram, Swipe Up will replace anchored link stickers, accounts can be automatically translated, or we can save the account as a draft in case of an emergency to come back to it later. IGTV and Reels ads have been added, as well as an Audio tab in search results. Instagram now wants to show users more posts, but not those of users they follow themselves, but those that an algorithm selects.
Speaking of algorithms, these are now supposed to limit spam and violence, and those under 13 will be able to use a special Instagram for the youngest. Another interesting feature is Instagram's new online magazine, which is supposed to publish the latest trends and developments on the platform.
Messenger
The messenger from the Facebook ecosystem has introduced data encryption, emoji with audio capabilities and QR codes to authorize quick online transfers, and Messenger rooms could be a good alternative to the Zoom platform!
Twitter
Spruce, on the other hand, has made changes to campaign types and now there are not 20, but 5. Also new are professional accounts, indicating areas of operation, address, hours of operation, phone number and feedback from clients. The service, like the others, has recently realized that there is more interest in audio content, so it is going to implement a link to Spaces in the main menu. Unfortunately, first accounts that have 600+ followers will get it.
Spaces will also be ticketed, so it will be possible to promote and monetize such events. Super Follow is also an interesting feature that allows users to tip the creator, and reactions to tweets are being tested. Also useful is the fact of being able to sign in to Twitter with a Google or Apple account. finally! Deleting selected followers, playing youtube videos directly on the platform, and 4K support are also being tested. But perhaps most important is Twitter Blue, a paid access feature that will allow you to correct typos or retract a quarter! Also noteworthy are new features such as the ability to search for messages by keyword and tagging tweets with groups that will not be visible to non-members.
LinkedIn
A specialized app for the workforce sector is rolling back relationships, has already introduced the ability to tag services provided, and is expected to add a rating feature in the future.
A great resolution was the introduction of the creator mode, in which we have more control over how the panel looks like our profile, and the content that we share is then more exposed. LinkedIn as an application for professionals also wants to use the audiovisual space, working on the function of conference rooms, in which it will be possible to conduct conversations as in Zoom or Teams.
TikTok
Although ridiculed by many, this medium is on the podium of those most frequently installed and used apps by young people. TikTok has introduced post promotion, a tab for verified sellers, new ad formats and their targeting, and lead building. Users can also check the final look of their video, because, to their horror, they couldn't do it before, but also the length of the videos extended to a maximum of 5 minutes. Company accounts can set up automations to respond to their customers' inquiries, and fans will be able to pay their idols to talk to them "privately," thanks to Shoutouts. TikTok has also introduced facilities for the deaf by introducing automatic transcription subtitles, and is working on live broadcasts with new panels, shopping events, racing with Facebook.
YouTube
For dessert, the most widely used portal in Poland for the consumption of audiovisual content – the YouTube platform. Here, there are shorts that mimic tiktoks, stats as to views on other devices other than the current one, and stats on returning users. Rumor has it that the paws-down counter is to be hidden and the creators of shorts are boosted by the algorithm to the top, even if their content is not very expressive. Besides all this, algorithms have learned to suggest titles and hashtags for songs or conduct automatic segmentation of videos, which will affect the positioning of content in YT search. Creators can also already share content and add sections to it, and on the live stream they can receive a super thank you with financial support hidden inside. There are also achievement cards on their channels, which in theory is supposed to lead to more motivation to create new and valuable content, meaning more profit for the creator and the platform.