Will mobile gaming become the new social media?
Mobile games segment is growing at a cosmic pace. AdColony's report "Social Media vs. Mobile Games" for Mobiem Poland shows that as many as 88 percent of. respondents play mobile games. The largest percentage of them (44 percent.) are people up to 34 years old. Millenials and Generation Z are increasingly treating games as a new meeting place and extension of reality, allowing them to socialize in a virtual world. Newzoo reports indicate that the growth of shared alternate reality (Metaverse) will continue. The success of Travis Scott's in-game concerts in Fortnite or Lila Nasa X in Roblox prove how much potential lies in this medium to reach people. Moreover, a study conducted by the Oxford Internet Institute (Johannes, N., Vuorre, M., & Przybylski, A. K. (2020, November 13). Video game play is positively correlated with well-being.) found that a small amount of time spent playing a game can positively impact well-being. Meanwhile, Hill Holliday/ORIGIN reports Gen Z: The Social Generation indicates that over 60% of the. Post-millenials take a break from social media, with 1/3 leaving social for good. So, where marketers should look for their opportunities?
Mobile games new social media?
In the era of the COVID-19 pandemic, people have begun to seek alternative options for meeting friends and family. One of the most important trends turned out to be reality sharing in games. Already pre-pandemic events organized by Fortnite (Marshmello concert or promotion Star Wars: Skywalker. Revival) gathered millions of players in front of the screens. And in 2020, Travis Scott's Fortnite concert attracted more than 27 million gamers. There are more examples, such as Lila Nasa X's concert in the game Roblox, whose 4 performances within 2 days gathered 33 million views!
The need to share successes and sorrows from a distance has led to another phenomenon. Animal Crossing game on Nintendo Switch allowed to design reality in more pleasant colors. We've witnessed graduations, weddings, and funerals virtually through the ability to play together with friends.
If we look at the motivations of gamers, we see an interesting direction. AdColony data prepared for Mobiem Polska indicate that 47% of. of those surveyed play to fill their time, but 40 percent of those. admits that the impulse to play is socializing. Moreover, 8 percent. respondents say they play to meet new players. No wonder that more than half of the respondents of the AdColony survey claim that mobile games will at some point become the new social media. – Games are increasingly becoming a place where we spend time with friends. We are witnessing a trend of expanding metaversive experiences that bring players together around games and in-game events. This is also known by the biggest social media celebrities. Just look at Facebook's new direction and its rebranding into Meta – says Michał Giera, Mobiem Polska.
Post-millenials increasingly resign from social media
Hill Holliday/ORIGIN report Gen Z: The Social Generation indicates that more than 60 percent. Post-millenials take a break from social media, with 1/3 leaving social for good. What influences this state of affairs? 4 in 10 respondents said they waste too much time on social media (according to January data, we spent an average of 2 hours on SM). Another reason why young people think of escaping from social media is too many negative emotions (35 percent think so). of those surveyed). There may be something to this, especially given the facts recently revealed by a former Facebook employee (after Polsat News). They showed that the platform uses algorithms that optimize content to drive the highest number of reactions. In other words, the algorithm promoted the most polarizing content.
We also get interesting information from research AdColony prepared for Mobiem Polska. Respondents answered a question about how different media channels affect their feelings. The study included mobile games and social media. It was examined what types of emotions accompany people when using these channels. The following feelings were taken into account: good mood, engagement, happiness, relaxation, concentration, excitement, stress, worry. Mobile games were found to have a much more positive effect on respondents than social media. Respondents are more likely to be in a better mood when playing (83 percent.) than when using SM (47 percent.), they are also more engaged (71 vs. 41 percent.), happier (61 vs. 39 percent.), more relaxed (61 vs. 28 percent.), more focused (39 vs. 12 percent.) and more excited (21 vs. 13 percent.). Mobile games cause respondents less stress than social media (6 vs. 10 percent.).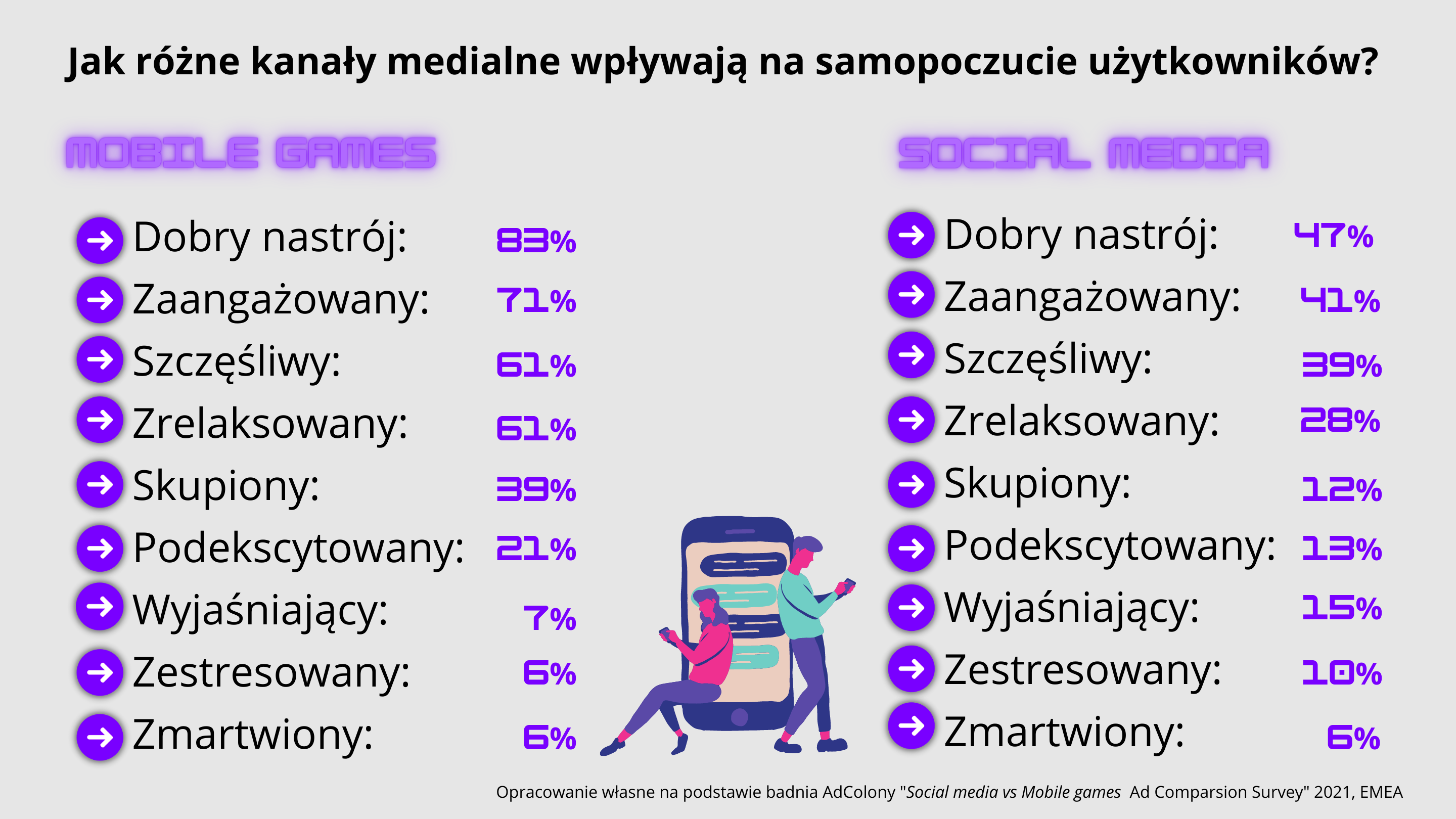 – AdColony's survey results highlight what's been talked about for a long time. Social media users are less positive about this medium than they are about gaming. Social media evoke less enthusiasm and engagement than gaming. What's more, according to Websiterating, over the past two years Facebook has seen a steady decline of 2 percent in the number of users. That's why it's worth expanding a brand's communication with this channel, where we meet satisfied, more excited users. User experience can greatly benefit from this – comments Michał Giera.
A study conducted by the Oxford Internet Institute 6 found that even a small amount of time spent gaming has a positive impact on well-being. Action games are associated with improving spatial ability, or the ability to allocate attention 7 . They can improve mood, reduce anxiety, promote relaxation, allow to exercise emotion regulation. Games teach cooperation, problem solving and contribute to pro-social skills 8 . Of course, everything is good when kept in moderation.
In the face of all this data, marketers need to reach consumers multichannel. Although according to the report , "Omni-commerce. In the study I Buy Conveniently 2021″ by the Chamber of Commerce of the Electronic Economy, prepared by the Mobile Institute, only 11% said they would make a purchase after seeing an ad in a mobile game. nternet users bought something as a response to an ad in social media. It's a different story when it comes to mobile gaming.
Why marketers should take an interest in mobile gaming?
Ads in mobile games are more acceptable
AdColony report states that 71 percent of. respondents are more likely to remember a service or product when they are exposed to user-initiated ads. The most accepting ads are those they receive bonuses after viewing (72 percent. of respondents). The least intrusive are ads displayed in mobile games – 67 percent. respondents accept them. More than twice as many respondents tolerate ads on Youtube and Google. Only ¼ of respondents approve of Facebook ads and only 11% approve. on Instagram. The table is closed by Snapchat with 3 percent of. advertising tolerance.
– Ads in mobile gaming enjoy the highest user acceptance. They also cause conversions more often. 66% of consumers admit to making a purchase after seeing an ad in a mobile game. respondents of the AdColony survey. In contrast, less than 20 percent of people surveyed have purchased a product or service after seeing an ad on Youtube – comments Michał Giera from Mobiem Polska
Networking
Mobile games as a new social media are a chance for panto mail and natural promotion and increase brand interest.
– Expanding our reality with the virtual aspects of games fosters community building. AdColony reports 40 percent of gamers play mobile games to socialize. If marketers plan their advertising strategy well, they are able to reach a wider number of people through buzz marketing – says Michał Pietruszka, Head of Mobile Product, Mobiem Polska
Interesting ad formats
Mobile games offer many opportunities for compelling ad formats. Starting with pre-roll ads, through unobtrusive banners with company's logo and name appearing in purchased places in the game, ending with the most acceptable by users format of rewarded ads.