More than half of Poles think they care about their online lives
Protecting your privacy online in the age of digitization of processes and services can be a challenge. ClickMeeting – a Polish platform for webinars, training and remote learning – decided to check how Poles approach this issue. According to the report prepared by the company "Online privacy. Users' opinions and good practices", over 57 percent. of these respondents believe that they always care about their privacy on the Internet. Nearly 40 percent. of respondents use incognito mode in the browser, and 32.5 percent of respondents use encrypted. of applications blocking the tracking of traffic on the web.
Online privacy is important to Poles
ClickMeeting's survey found that nearly all survey participants recognize the importance of protecting privacy during various activities in virtual spaces. 57 percent. of them claim to always take care of their privacy online, while 40.6% of them do not do anything about it. not always, but is trying to. Only 1 percent of. More than half of Poles do not know how to take care of their online privacy and therefore do not take any action, and less than 1% of respondents do not know how to take care of their online privacy. respondents said that online privacy is not important to them.
How do we protect our privacy?śm online?
Data summarizing February 2022 in terms of Internet, radio and TV consumption shows that 30 million people* in Poland use the Internet alone, with as many as 25.5 million of them using it daily. So ClickMeeting decided to look at how they protect their privacy and what tools they use to do so.
According to the survey conducted by the platform, the largest percentage of Polish Internet users pay attention to cookies (63.4%).). Nearly 60 percent. indicated that they care about privacy settings in social media, and 57.8% care about privacy settings in social media. about privacy settings on your computer and/or smartphone. They also pay attention to the issue of the browser, using incognito mode in it (nearly 40 percent.The number of people who use privacy tools to protect their privacy (32.5 percent) or applications that block tracking (32.5 percent.), and 28% of. use a VPN service. virtual private network). Some are also using solutions such as encrypted email (15.5 percent.), communicators encrypting data transmission (12.8% of respondents.The use of encrypted messaging (12.2% of respondents use incognito mode) and encrypted.), and 11 percent. Declare using tools to encrypt confidential files.
Online events and privacy
Companies have become more active in using online solutions that enable them to both conduct and promote their business online. As a result, events that were previously held in the form of stationary. Solutions such as webinars have also gained in popularity, with duration increasing by as much as 16 minutes in 2021 compared to 2020, according to ClickMeeting.
And while content or invited experts naturally play a key role in the choice of online events by Internet users, ClickMeeting decided to check how important the issue of privacy is for participants. It turns out that as many as 73.7%. ClickMeeting has found that the majority of respondents want webinar organisers to take care of their privacy. Only less than 20% are indifferent., and 4.8 percent. declared that they do not pay attention to it.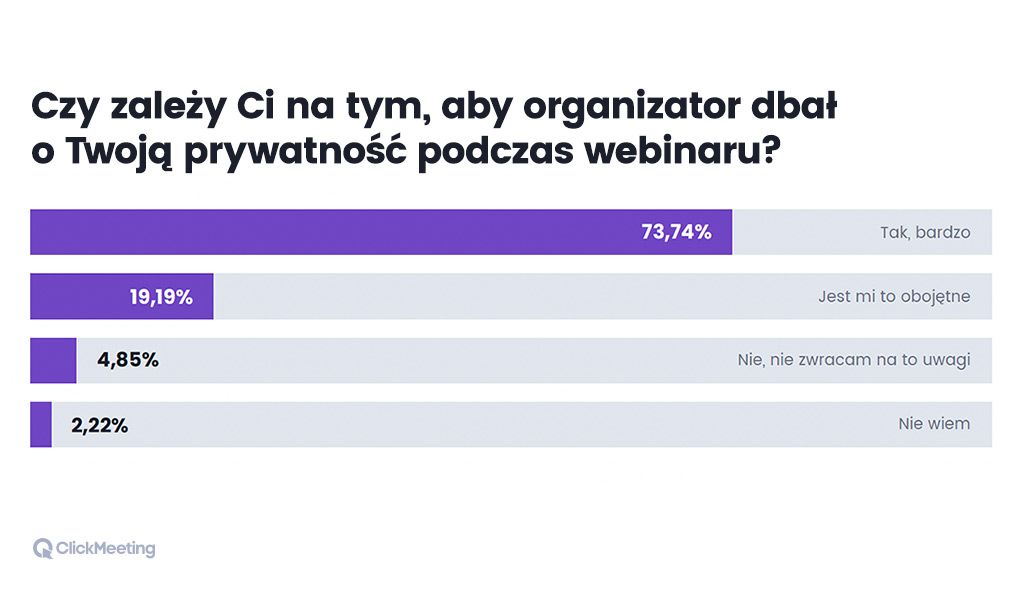 – According to data from ClickMeeting, almost 20 percent of respondents say that their online privacy is not important to them. The most popular events on the platform were those of a marketing and PR nature, while 16% of the events on the platform were of a marketing and PR nature. supported direct sales. This shows that just like other areas, business is also moving online. And there we want to feel safe. So it's no different for online events –says Dominika Paciorkowska, Managing Director and Board Member of ClickMeeting. – The number of those held at the ClickMeeting in 2021 was 320 percent higher. relative to 2019, the pre-pandemic period. This means that we have seen what potential there is. However, network privacy and security, especially in the era of increasing cyber attacks, is of great importance for us. That's why it's so important to choose a tool that pays special attention to these issues. This is especially true when it comes to providing the right network infrastructure and developing a sophisticated privacy policy. Also important are features that allow users themselves to secure their events, such as. by limiting access only to authorized persons. ClickMeeting takes care of all of this, so that both organizers and attendees feel comfortable and secure.