NBA 2K11 (2010) - FLT+Crack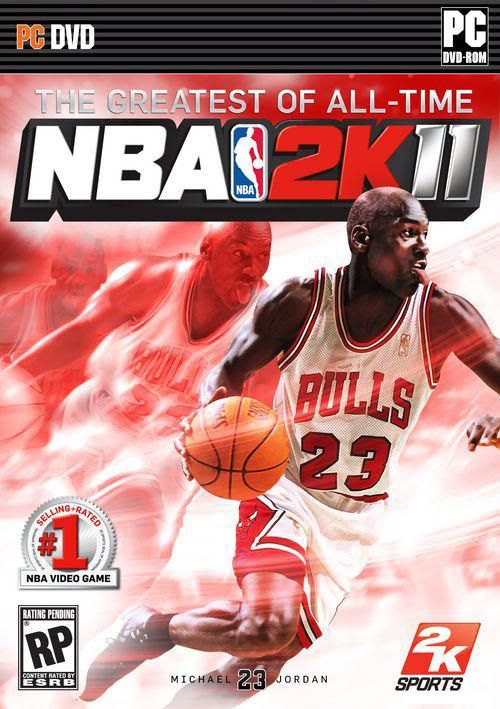 Kod:
In NBA 2K11, players can experience what it's like to play in Michael Jordan's shoes! Relive 10 different legendary games from Michael Jordan's career and replicate in NBA 2K11 what MJ did on the court, and even unlock MJ: Creating a Legend, a special mode where you get to take control of a newly drafted rookie Michael Jordan and craft your own version of Michael's career in the NBA. Players can also experience what it's like to be part of some of the greatest teams in NBA history as the 1985-86, 1989-90, 1990-91, 1991-92, 1994-95, 1995-96, 1996-97, and 1997-98 Chicago Bulls. 

NBA 2K11 features IsoMotion Dribbling Controls, Shot Control, a deeper My Player mode, NBA Today 2.0 (which now includes a halftime show recapping not only your in-game highlights but also real NBA scores and player stats from around the league) and much more.
Kod:
* Relive 10 different legendary games from Michael Jordan's career and replicate in NBA 2K11 what MJ did on the court. Successfully reenact all 10 game scenarios to unlock the MJ: Creating a Legend mode. 
* Delivering the most realistic feeling and reacting dribbling system to date with seamless transitions between ankle breaking moves allowing users to translate thought to motion and dominate like Michael Jordan from the perimeter to the paint. 
* Take your offensive game to the next level with an unprecedented amount of control via the enhanced Shot Stick. Dozens of new shot types, from layups to jumpshots to dunks and everything in between, are under the user's control with the flick of a stick. 
* Updated AI systems across the board make The Association the smartest franchise mode in sports gaming. Featuring a revamped NBA Draft with draft day trades, and a user-friendly trade finder, the Association brings an entirely new level of realism.
Kod:
Release name: NBA_2K11-FLT 
Genre: Sports 
Publisher: 2K Sports 
Developer/Co-Developer: Visual Concepts / Kush Games 

Size: 5.09 GB
Kod:
OS: XP / Vista / Windows 7 
CPU: Intel Core two Duo@2.4???, or Athlon X2 
Video Card: GeForce 7800 / Radeon X1800 or above: Shader Model 3.0 
Sound: Direct-X 9c compatible 
Memory: 1 GB (2 GB Vista) 
Hard drive: 6 GB 
DirectX R 9.0c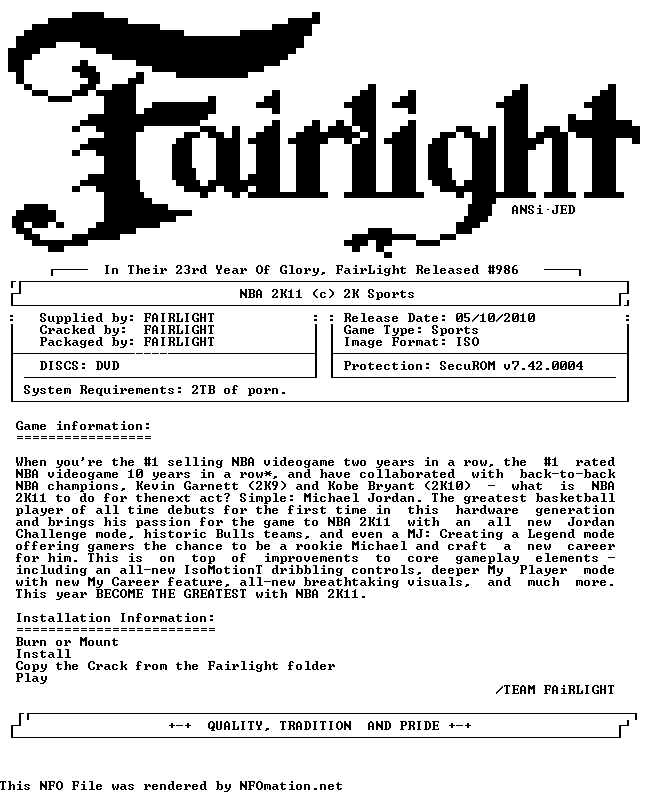 GAMEPLAY: YouTube - NBA ELITE 2011 Exclusive Gameplay Xbox 360 1st Q(With Commentary)
.:: Installation Instructions ::.
Kod:
1) UNPACK 
2) INSTALL 
3) MOUNT 
4) Play
If you get system Error Then Do the following :
Kod:
an error occurred installing the package windows installer returned 1639
Cytat:
Don't click setup.exe, just unpack nba2k11_1.cab and such other files
.:: Installation Screens ::.
Kod:
Total Size: 5.65 GB ~ 13 FILES!
.:: FLT VERSION ::.
It Takes 4 Hours To Rip
3 Hours To Upload
15 Min To Post
Just 5 Seconds To Say "THANKS"
DON'T FORGET TO SAY THANKS IF YOU LIKE MY POST !
Linki z tego postu zostały usunięte z powodu naruszenia praw autorskich.