Blood Into Wine (2010)
Kod:
Plot:- 


Maynard James Keenan is known as the front man for Tool, A Perfect Circle and Puscifer. In the mid-1990's, on a whim, the reclusive rock star left Los Angeles and moved to an Arizona ghost town (population 300). A wine enthusiast, Keenan began to envision a world class wine region on the Verde Valley's craggy slopes and with wine mentor Eric Glomski (former David Bruce winemaker and current owner of the award-winning Page Springs Cellars), Keenan began the long road to bringing credibility and notoriety to Caduceus and Arizona Stronghold Vineyards amidst wine industry prejudice and the harsh Arizona terrain. Take a look inside the life of one of rock music's most mysterious figures.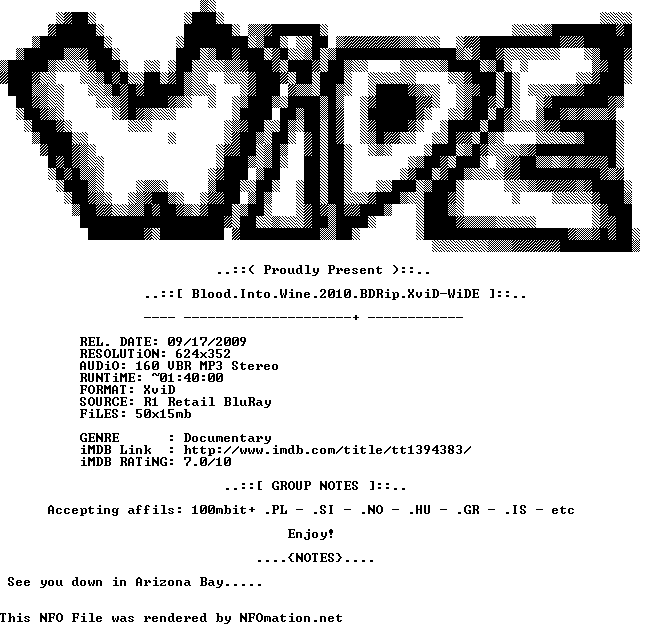 Kod:
MOVIE INFO:

REL. DATE: 09/17/2009 
RESOLUTiON: 624×352 
AUDiO: 160 VBR MP3 Stereo 
RUNTiME: ~01:40:00 
FORMAT: XviD 
SOURCE: R1 Retail BluRay 
FiLES: 50x15mb 
GENRE : Documentary 
iMDB Link : http://www.imdb.com/title/tt1394383/ 
iMDB RATiNG: 7.0/10
Kod:
Total Size: 519.41 MB ~ 2 LINKS!
It Takes 4 Hours To Rip
3 Hours To Upload
15 Min To Post
Just 5 Seconds To Say "THANKS"
DON'T FORGET TO SAY THANKS IF YOU LIKE MY POST !
Linki z tego postu zostały usunięte z powodu naruszenia praw autorskich.